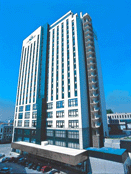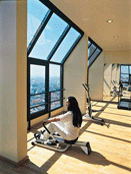 The Hotel Vila Galé Porto is situated about 400 metre from the centre of the old town of Porto. It is an ideal location for visitors wishing to see the many classical buildings of this historic town. It is also ideal for shoppers and a large choice of local traditional restaurants and bars.

There are 274 comfortable rooms with 18 junior suites, and 52 rooms with inter-communication doors. Each has air-conditioning, mini-bar, satellite TV, internet connection, safe, satellite and Pay TV. For the convenience of its guests there is a restaurant and a lounge-bar in which to enjoy a relaxing drink after the bustle of the day.

Other facilities include conference rooms, an indoor heated pool, meeting rooms, games room, private parking, Fitness Room, sauna and steam baths, and massage. During the high season an entertainment programme is available. The Hotel for businessmen is approximately 20 kilometres to 'Exponor' (Exhibition area), and 15 kilometres from Porto Airport. In the area there are several good golf courses to challenge even the best of players.