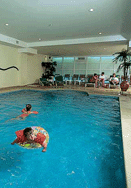 The Hotel Vila Galé Marina is well located in overlooking the hundreds of boats moored in the Marina of Vilamoura.

The Hotel has 243 comfortable bedrooms which includes 14 suites. Each has air-conditioning, balcony, mini-bar, satellite TV, safe, and 24 hour service. For the convenience of its guests there is a bar, a restaurant and a coffee-shop.

Guests have within easy walking distance the beach and a vast variety of bars and restaurants, including a Casino with a dinner and floorshow.

Supporting facilities include an outdoor pool, an indoor heated pool, a Jacuzzi, steam baths, Fitness Room, card room, meeting rooms and a newspaper kiosk.

During the high season an lively entertainment programme is available for both adults and children. The Hotel Vila Galé Marina also makes a excellent base for sporting activities as within very comfortable reach are six excellent golf courses, a tennis club, two grass bowling rinks, horse riding and shooting.