Mail Us

Carvoeiro
Algarve
Portugal

Tel/Fax:
00 351
282 357 847

Location
The village of Carvoeiro is located on the coast to the west of Faro, and almost halfway between the International Airport of Faro and Sagres, the most westerly tip of the Algarve. It takes about three-quarters of an hour the airport to the village.
Carvoeiro
Some 35 years ago Carvoeiro was more a one-street small fishing village where everyone knew each other and everyone was more or less related.
Today, with the influx of tourists and foreign residents it is has grown into a sophisticated location with interesting small shops and a wide selection of restaurants and bars. Although this has brought a lot of stylish villas and luxurious apartment complexes, and even a couple of hotels, the charm of the original village architecture is still visible in the smaller side streets close to the beachfront.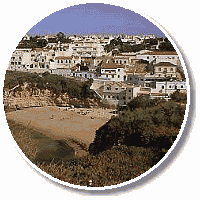 Local Facilities
The Carvoeiro Clube de TÚnis is conveniently located on the north-western edge of the village providing easy access to the main road and rest of the coast. Two kilometers away there are two internationally quality 18-hole golf courses and a separate "Par 3" nine-hole course. There is a choice of beautiful sandy beaches in easy reach and there are good shopping towns and supermarkets within 15 minutes drive. This all adds up to a great location for a convenient and memorable holiday.
Accommodation
The accommodation offered to visitors by Performance Tennis School is a choice between the 54 bedroom Hotel Carvoeiro Sol**** and the comfortable Monte Dourada****, a group of 179 self-catering apartments with six swimming pools. The Hotel has a heated swimming pool, a Restaurant and two Bars, and is located in the village square facing the beach.


Home Page


Facilities


Packages


Coaches