Coaches

Graeme Hulme has been managing Tennis Clinics in the Algarve for many years. To assist him in the coaching he has built around him a team of quality coaches from different backgrounds and several different countries.
Graeme's prime concern is to ensure that all the coaches maintain his policy of "friendly active teaching" that is matched appropriately to the level of the player. Initially each player is carefully judged in his or her ability on court and a series of targets are set to improve their skills. Structured coaching is then applied with these targets in mind.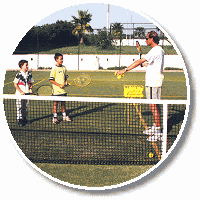 Graeme Hulme
Director of the Performance Tennis School. An LTA (England) and USPTR (USA) qualified tennis professional. Reached a "Singles" ranking of 9th in Portugal. Currently ranked 4th in Portugal's "Men's Over 35".
Mo Beilby
Mo gained her coaching qualifications in Holland with teaching and tournament experience. Currently ranked 1st in Portugal's "Ladies Over 35".
Robin Utee
Qualified KNLB Coach (Holland). Moved to the School from a leading Dutch Club. When in the "Elite Squad" he trained with Andre Agassi.
Milan Todorovic
Prior to joining the School, Milan was the Coach and Technical Director to Madeira Tennis Federation. Qualified professionally in Croatia.
Paulo Bitogue
As a qualified coach with the Portuguese Federation, Paulo adds his local character to the team. Previously he was the resident coach at the Tavira Clube de TÚnis.