The VIP Hotel Apartments Executive Suítes do Marquês is located in the centre of Lisbon in the Avenida Duque do Loulé and only 150 metres from the nearest Metro Station. This is an good location for both holiday families or visiting businessmen who wish for self-catering facilities.

There are 84 rooms divided in Studios or Apartments with extra sound-proofing. Both have fully equipped kitchenettes besides the normal mini-bar, satellite TV, Internet and a room safe. There are apartments for disabled guests.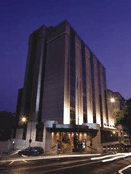 The Hotel facilities include a terrace pool and a sauna. The Hotel restaurant serves a traditional international and there is a bar which makes a good meeting point, or for the end of the day drink. Covered parking is available at a small extra daily charge.