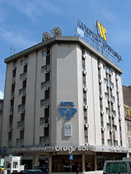 The VIP Hotel Inn Saldanha is six floors high and located close to the Praça do Saldanha with good access to Lisbon's public transport.

The Hotel has 54 modern comfortable rooms which includes 2 Suites. The rooms and suites all have air-conditioning, a room safe, radio and cable TV.
The Hotel facilities include a breakfast room and a 24 hour reception. There is also a bar for social moments.