The Hotel Colina dos Mouros is located facing the historic old town of Silves and its castle walls, in the Algarve. There are 52 comfortable guest rooms in a building set in terraced landscape gardens. The town of Silves, in the times of the Moors, was originally the centre of culture in the Iberian Peninsular. It consisted of many palaces, some with captured wild animals roaming in their gardens, but these have been lost in the history of time.

Each room has twin beds, a room safe, satellite TV and a hair dryer. Rooms facing the old town have terraces with a table and chairs for guests to enjoy the charming views of the city walls and the river. There is a main pool, a children's pool, both of wich are surrounded with a generous terrace. A 24-hour reception is provided to assist guests in all their needs. There is a main restaurant and bar, and a TV room. The restaurant in the Hotel is particularly recommendable for its interesting and quality regional Portuguese cuisine and it also serves known International dishes.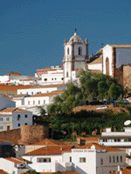 Hotel Colina dos Mouros is within an easy walk of the centre of Silves which has a number of restaurants, one of which is renown for its fresh fish and shell food, another one for its roasted suckling pig in the manner of northern Portugal. The Hotel makes an excellent rural base for visitors wishing to explore the Algarve and discover its culture and its history. In Silves there are two museums, an Arab castle, Gothic cathedral, medieval bridge, and the 'stone cross of Portugal' that still remains somewhat a mystery!