The Village Inn is located in the tiny village of Mexilhoeira da Carregação, just 2 kms east of the town of Portimão on the other bank of the River Arade. Because the place is small the atmosphere is warm and cosy and the emphasis is placed on friendliness, delicious food and good service.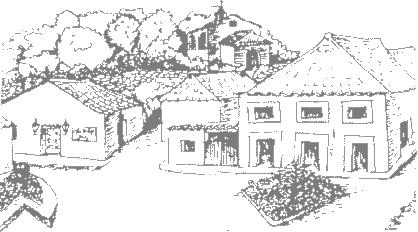 Cathy Lancaster, who hails originally from Canada, has been serving her regular clients for the past twenty years within the friendly charming atmosphere she has created. Cathy maintains a a menu with character that offers food that uses everyday dishes in an imaginative way and delighting the palate. Starting with the carefully chosen understated stylish table settings, Cathy shows her natural talent (her father was a Head Chef!) for creating a warm hospitality that accompanies the meal right through to the desert. She is rightly a proud owner of this very popular Restaurant. Whether it is in or out of season, it will probably be necessary to book at least a couple of days in advance to make sure you have a table. (In fact, Cathy hardly needs this advertisement - this is our supportive gesture as one of her regular clients).
The Village Inn opens in the evenings from 6.30 p.m. and also has a daily interestingly varied "à la Carte" menu that pleases most tastes. These are several "Special Dishes of the Day" that very much depend each morning on what looks good and inviting in the local market.
Highly recommended to those who choose vegetarian food is its small selection of five dishes. The ladies of the kitchen, (Isilda and Conceição who also have notched up as many years), know how to prepare fresh vegetables to please even some of the most ardent meat eaters!
The Restaurant opens at 6.30 p.m. from Tuesday to Saturday, and only holds about 30 people. In the summer there is a very rustic outside courtyard that has seating for a further 12. Children are more than welcome. During the colder winter nights Cathy lights a snug log fire and it is not unusual to find a number of her regulars "propping up the bar" in the early evening.
| | | |
| --- | --- | --- |
| | | |
The Village Inn
Restaurant


Mexilhoeira da Carregação
Reservations: 282 412 036
kathie.lancaster@gmail.com