The Resort for the whole family to enjoy an exceptional happy holiday. The Vila Baleira Thalassa Resort has a 256 room Hotel, 56 Holiday Apartments, and a Health Spa using Thalassa treatments – located virtually on the sandy beach on the special Island of Porto Santo which lies to the northeast of Madeira.
The Vila Baleira Hotel provides 224 Double rooms and 32 Junior Suites with all modern comforts and balconies of which most are overlooking the blue Atlantic Ocean. The restaurant serves an international cuisine with the addition of popular Madeira specialities and with an emphasis towards fresh seafood. Besides the comfortable Lobby Bar there is a cinema, nightly live entertainment during the season and a Games Room.

To occupy guests during the day there are two sea water pools, one outdoor and the other a heated indoor pool, a Beach Club, a Kids Club and playground, several shops, water sports, diving, tennis courts, and the large sandy beach. Nearby is a Golf Course which can also be played at night as it is floodlit. During the season there is a Courtesy Bus to the small town of Porto Santo.
The independent comfortable 56 Apartments are on four floors with kitchenettes and sea view balconies. The 1st and 2nd floor apartments can sleep 4 persons, whilst the top two floors can sleep only 3. They are air-conditioned and have cable TV.

The Thalassa Spa Health Centre uses one of the oldest natural and efficient treatments in the world. Based on sea water heated to 37º C. it treats the nervous system, arthritic rheumatism, and bone and muscle problems.

Hotel Vila Baleira Thalassa Resort Location Map

Hotel Vila Baleira Thalassa Resort Fact Sheet



There are no Discount Rates
for this Hotel for Year 2009

Location Map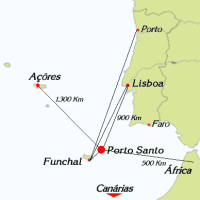 Madeira
Information
----
Museums

Restaurants

Useful

What to Do

HOME