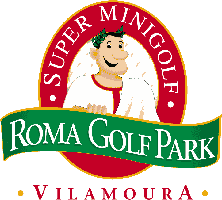 Algarve - Portugal
An opportunity to play on a Super Minigolf Park of the very latest design and comparable with the best in the USA. A choice between 2 rounds of 18 Holes - all in a special spacious Roman setting. Feel the emotions of golf players as you putt to beat the Course "Par" on each Hole.
Roma Golf Park has fountains, lakes and attractive gardens in which to walk.

The design of the Clubhouse also reflects the architecture of ancient Rome. Inside, are selections of table games for players. There is an attractive terrace where all the family can sit and eat snacks and try one of our special ice creams.

As the Park is designed for all the family there is a Play Area for the younger ones. There is also a Free Miniature Golf Area for accompanied children under 10 years old.

All the necessary Clubs and Balls are provided by the Club.
COMPETITIONS
Every week there are competitions open to all visitors in which everyone can play. Lucky winners in both the Adult or Children Groups will receive a Medal and also a Voucher for Roma Golf Park.
(Roma Park is closed from the 25th of November to 25th of December each year)
PRICE
One Round - Esc. 1.600$00
Two Rounds - Esc. 2.300$00
Take advantage of booking before you visit the Algarve – Groups of more than 4 Persons will receive a 15% discount on the normal price – you can use your tickets at any time in opening hours during the year.
Roma Golf Park looks forward to welcoming you
WHERE WE ARE
Located right in the centre of Vilamoura and only about five minutes walk from the Marina.
Roma Golf Park, Caixa Postal 927, 8125 Vilamoura
Tel: 289 30 08 00 Fax: 289 38 07 16
romagolfe@mail.telepac.pt