The Pestana Grand Hotel Ocean Resort is well located on the cliff top over looking the bay and the sea, and five kilometres from the heart of the old town of Funchal, Madeira.

It's staff look forward to welcoming you and your family to their modern Hotel knowing that you will all enjoy your stay.

The Hotel has 193 rooms which are divided into 129 with a sea view, 135 with a garden view, 15 Suites and one Presidential Suite.

Each bedroom and suite is air-conditioned with comfortable modern furnishings and full bathrooms with separate shower, a safe, a satellite and cable TV, a mini-bar, Internet connection, and a large balcony.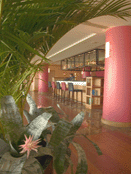 The Hotel has many facilities which include a large heated salt outdoor pool, a children's pool, Wellness Health & Fitness Centre with four treatment rooms, a library, a games room, business area, shops, kiosk, hairdresser, and a heated indoor soft water pool.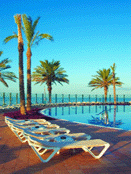 There is a great choice of restaurants, the Moroccan 'Au Tangine', the Italian 'Trattoria de La Fontana', the Portuguese 'Cabo Girão', the 'Atrium' for breakfast and also general meals, and finally the 'Pool Snack-Bar'. There are three Bars for the evening social living.

The Hotel maintains a supervised 'Kids Club' to entertain its young guests. The Hotel has professional meeting facilities with five rooms and a capacity for 180 guests.